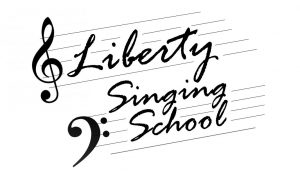 Welcome to Liberty Singing School! This webpage will be our home for now, where you will be able to find all the information you need.
Our first Annual Singing School will be here at Rocky Mount Church December 27-29. We are excited and thankful to have Elder Bryce Lowrance as our  instructor. And on Sunday, December 30th, Brother Bryce will be preaching for us in our regular morning worship service, Lord willing.
Our desire is that our focus be on worship during this singing school. As we learn more about a cappella singing and shaped-note music, we will enjoy messages from God's word and much, much fellowship. Our approach to worship is congregational and family-integrated, and that will be our format for the singing school.
We plan to begin Thursday evening, the 27th, with a pizza supper at 6:00. Our evening assembly will begin at 7:00. Friday and Saturday both, we will begin at 10:00 a.m. with sessions continuing through the evening. Lunch and supper will be served both days. A more detailed schedule will be posted here as we get closer to that time.
Registration forms are posted below, which include contact information. We would like for everyone to register who is planning to attend, even if you live the local area. This will help with planning meals and with our schedule. If you plan to stay overnight and would like to stay with a host family, you will indicate that on the registration form. But if you decide to attend and haven't registered, we want you to come on anyway!
Our prayer is that the Lord would be magnified in all we do during this time. We look forward to you being with us! Don't hesitate to contact us for any reason, and especially if you have specific needs that we can help with.
Blessings,
Matt Jordan, pastor
Check out our Facebook Page
If you have any problems with the forms, please let us know!
LSS Registration Form pdf
LSS Registration Form doc
LSS Registration Form xls